Intigral Celebrates 30 Years of Excellence
April 24, 2017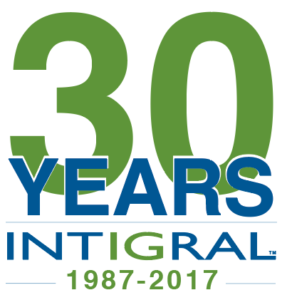 INTIGRAL is proud to be celebrating 30 years in business!
Since 1987, INTIGRAL promotes a unique mix of innovation, integration & insulating glass across the Mid-Atlantic and Mid-Western states.  From custom software integration to the latest in spacer and IGU construction, INTIGRAL proudly continues our tradition of excellence as we grow in products and locations!
Blinds Between the Glass
In 2016, INTIGRAL introduced our patented Innovia blind between the glass (BBG).  Manufactured completely in our Twinsburg, OH facility and available throughout North America.  At the same time, INTIGRAL announced our partnership with Pellini Industries. INTIGRAL became the only certified USA manufacturer of the entire 20mm cavity ScreenLine BBG.  For 2017, INTIGRAL is proud to announce that all ScreenLine 20mm & 16mm products are available as kits!  Now a manufacturer of IGU can increase their product offering without the cost of shipping the glass. INTIGRAL, proudly innovating value creation for the fenestration industry.