Spring Trip to Explore ScreenLine Blinds Between the Glass
June 7, 2017
In preparation of INTIGRAL's ScreenLine product launch, members of our team traveled to Italy to learn how to produce ScreenLine kits, Blinds Between the Glass and build on the relationship we have with our Italian partner Pellini. ScreenLine® by Pellini creates and manufactures sun shading systems to be integrated within double glazing units.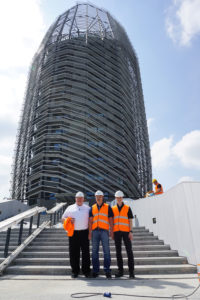 Zucchetti Tower and Blinds Between the Glass
The team visited Zucchetti Tower in Lodi to see finished units fully. The Zucchetti Tower features ScreenLine® SL20M units that are controlled by the overall building controls and have several different configurations. The building system can even adjust the Blinds Between the Glass to account for the position of the sun. ScreenLine® SL20M blinds have many features that make them ideal for large structures such as the Zucchetti Tower.
ScreenLine Production
A large part of the trip was to learn how to produce their blinds and about product specifications. With this knowledge, INTIGRAL will be able to ship kits and complete blinds between the glass units all across the United States. INTIGRAL's plant in Twinsburg, Ohio will produce the full line of ScreenLine products and has already completed orders that have shipped all the way to California.
The relationships formed with Pellini employees are some of the most valuable takeaways from the trip. With this partnership, Pellini is committed to helping us succeed and are part of INTIGRAL team.
Find out more about ScreenLine and Pellini.